General Magnaplate Continually Demonstrates Its Commitment to Quality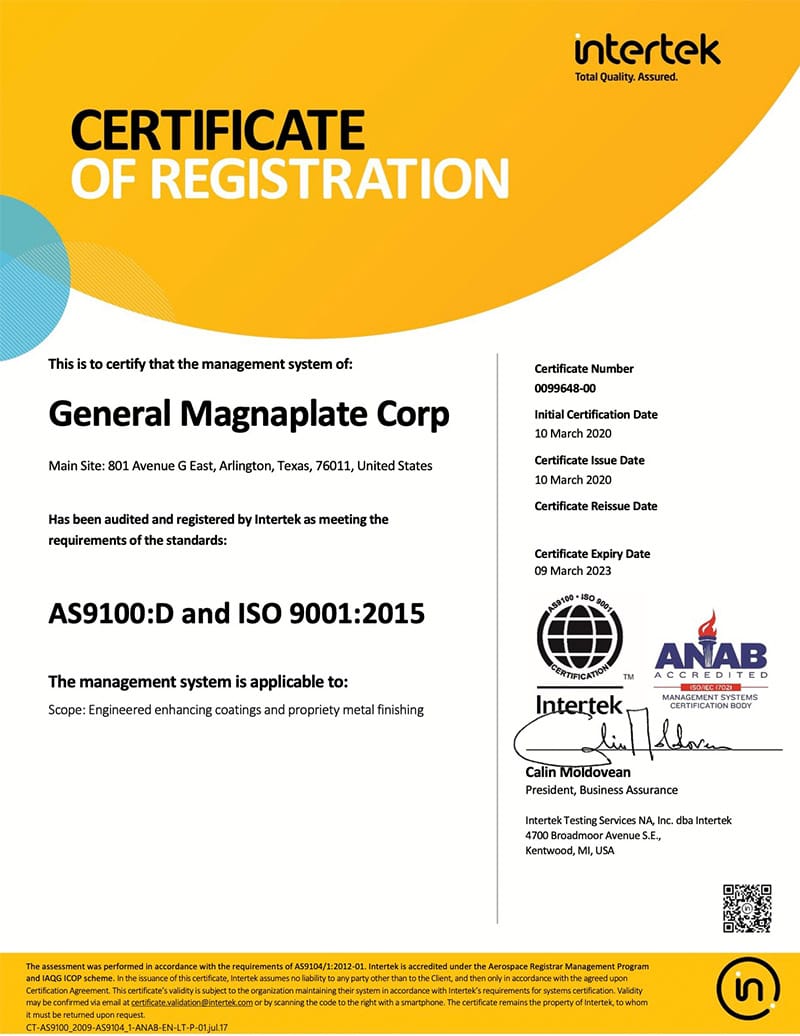 As a world leader in surface protection for aerospace and other demanding industries, General Magnaplate has a never-ending focus on quality control and improvement. We prove our commitment to quality by earning and maintaining customer and industry trust through regular audits.
For example, this week we are undergoing our annual AS9100:D audit. By maintaining our AS9100:D certification, we demonstrate that we have the processes and procedures in place to deliver surface enhancement products that satisfy the aerospace industry's stringent requirements for safety and reliability.
Meeting Regulatory and Customer Standards For Quality
We continually update our facility to ensure the highest quality surface enhancement coatings, satisfy regulatory and industry standards and not just meet, but exceed your expectations for quality.
One of the unfortunate consequences of the COVID-19 pandemic has been the suspension of customer visits to our Arlington, Texas facility. In recent weeks, we have been able to resume in-person customer visits, and the response has been overwhelmingly positive.
"The impressive results from customer audits are a testament to both the diligent work of our entire team and to our plant upgrades over the last two years," said Ligon de Vogel, Vice President of Operations and Corporate Strategy at General Magnaplate. "We are proud to demonstrate how, even in the face of a global pandemic, we work tirelessly to improve our operations and deliver products with uncompromising quality."
Next Up: NADCAP
In addition to our annual AS9100:D audit and recurrent customer audits, we're gearing up for the official NADCAP audit of our upgraded Arlington, Texas facility that is tentatively scheduled for 2022. Administered by the Performance Review Institute, NADCAP is a consensus-based, technically superior conformity assessment of companies that provide special processes — such as coatings — and products for the aerospace industry.
While audits are never easy, we're always up to the challenge. Thanks to our culture of continuous improvement, we embrace each audit as an opportunity to earn customer confidence in our ability to deliver quality surface enhancement coatings.
For more information, please contact us.