Choose Tufram For Superior Performance Characteristics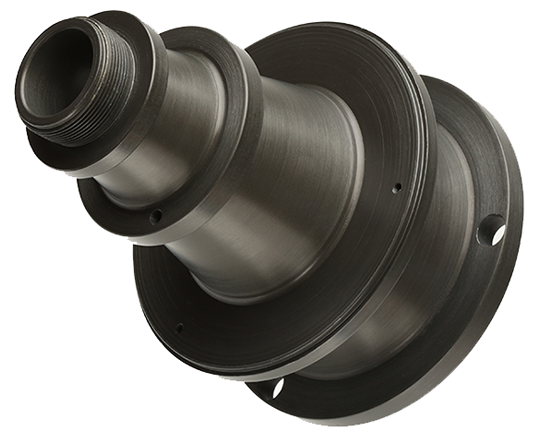 When deciding between coatings, evaluating performance characteristics is a good place to start. Our Tufram® and Tufram Basic Hard Anodizing coatings have similar processes but differing levels of hardness, friction reduction and corrosion resistance.
So which is right for your application? To help you decide whether or not to upgrade your coating, let's take a look at each.
What's the difference? While Tufram and Tufram Basic Hard Anodizing do share some similarities, it's their differences that set them apart. Tufram's surface hardness falls between 40 and 65 Rc, while the surface hardness of Tufram Basic Hard Anodizing ranges from 60 to 70 HRC in unsealed conditions.
Tufram also comes with a range of proprietary polymers that give the coating a lower coefficient of friction for protection against a wide variety of abrasive wear mechanisms and galling. The coating also reduces stick-slip behavior and vibrations in sliding motion applications. Tufram Basic Hard Anodizing, on the other hand, doesn't include a polymer, dry lubricant or other materials.
Another advantage of our Tufram coating is its resistance to corrosion, as well as acids and alkaline chemicals. In salt spray testing, for example, Tufram on high strength aluminum exceeds the AMS 2482 requirement of 336 hours, and typically achieves 1000 hours of salt spray resistance. Submersion tests in certain strong acids at 248°F show no effect after more than 170 hours. Tufram Basic Hard Anodizing achieves maximum corrosion resistance of 500 hours in salt spray testing.
In terms of coating thickness, Tufram ranges from 0.0004 to 0.003 inches, while the average thickness of Tufram Basic Hard Anodizing is 0.002 inches.
Which is best? For applications like close tolerance components, vacuum systems requiring non-outgassing components, guide rails and wafer chucks, you want Tufram. For automotive, aerospace and semiconductors, either Tufram or Tufram Basic Hard Anodizing can be used based on application needs and metal performance problems.
In addition, Tufram Basic Hard Anodizing and certain types of Tufram are FDA and USDA compliant, and either is good for food and beverage applications.