Engineered Coating For Extreme Wear And Tight Tolerances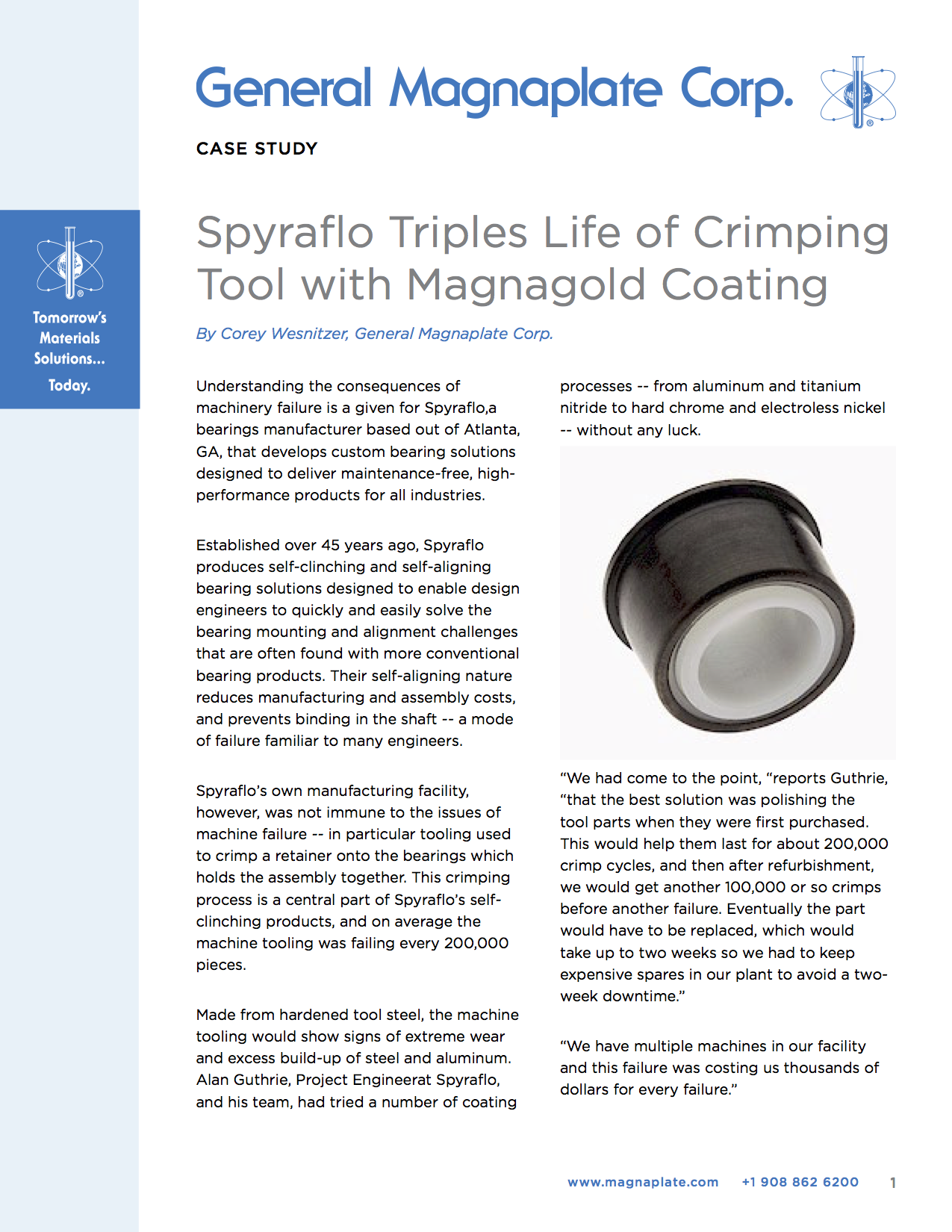 An enhanced titanium nitride physical vapor deposition coating (PVD) for extreme wear and tight tolerances, Magnagold® resists wear and abrasion up to 20 times better than stainless steel. This coating—used for applications with extreme wear and tight tolerances—provides metals with a hard, smooth surface and a rich, gold color without causing distortion or loss of hardness.
Technical advantages. Magnagold exceeds the physical properties of common vacuum deposition coatings like titanium nitride, PVD and CVD. With a thicknesses between 0.00004" and 0.0003" (1 to 7.5 microns), this coating also has an operating temperature range from -360°F (-218°C) to 800°F °(427°C), hardness up to an equivalent of Rc 85 and a dimensional accuracy of ± 0.00004 inches.
Other properties include:
Meets AMS 2444
Resistant to most acids, alkalis, fluxes, solder and weld spatter
USDA and FDA compliance
Processing temperatures as low as 400°F (204°C)
Excellent chemical resistance
Magnagold for longer life. One manufacturer that develops custom bearing solutions for delivering maintenance-free, high-performance products used Magnagold to triple the life of one of its crimping tools. This tool is used to crimp a retainer onto the bearings that hold the assembly together, a process that's central to the company's self-clinching products. On average, the machine tooling would fail every 200,000 pieces.
The company has several machines in its facility, and these failures would cost the company thousands of dollars for each failure. To deal with these failures on hardened tool steel, we suggested they coat a sample part with Magnagold. The first part coated with Magnagold crimped more than 500,000 assemblies without having to service—or even polish—the tool once. Because of the positive results of coating this tool, the company decided to coat all crimping tools with Magnagold.
Applications. Magnagold is used in a wide range of applications, including:
Forming tools
Drills
Extrusion dies
Punches
Wear rings
Hobs
Bushings
Sleeves
Bits
HSS tools
Critical tolerance components requiring extended wear life
Download The White Paper that shows the benefits of Magnagold.