Engineered Coatings Solve Pharmaceutical Packaging Issues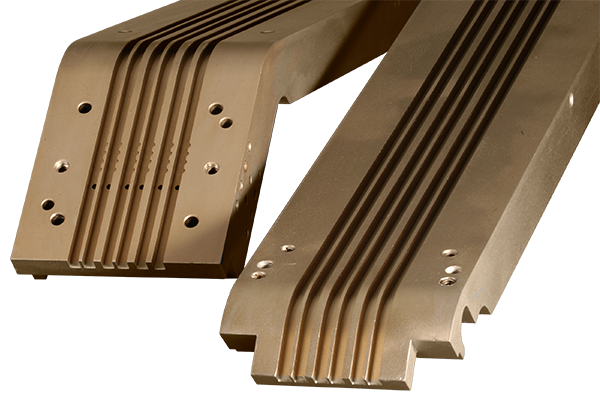 In pharmaceutical packaging applications, our engineered coatings serve many purposes. Not only do they protect machine components, improve sanitation and provide antimicrobial properties, but they can also solve problems relating to release, friction, corrosion, speed and sticking. Here's how:
Release. One contract packaging company that produces thermoformed plastic sheets with multiple cavities improved mold release with our Nedox coating. During production, these films sometimes stick to aluminum tooling after being thermoformed. If one of the many cavities on these sheets is ruined, the entire sheet must be discarded. The customer had Nedox applied, adding dry lubrication and creating a dense, non-porous surface that also eliminates the potential growth of mold and bacteria.
Friction. A pharmaceutical packaging supplier uses Magnaplate coatings for reducing friction and providing inert surfaces where chemically-active material could contact equipment components. The company makes fillers for handling irregularly shaped containers. One filler has a reciprocating head that's timed to move with the conveyor belt so the filling nozzle can enter, fill and leave the container without touching it. For these filler heads, Tufram was applied, allowing the aluminum heads to withstand friction from its moving parts.
Corrosion. When engineers at another pharmaceutical equipment manufacturer began reassessing their manufacturing facilities, they focused on an 8-foot-diameter center slung centrifuge featuring a perforated basket that holds in-process pharmaceuticals. The customer anticipated corrosive attack from acids, bases, and solvents. To prevent these attacks, we applied our corrosion-resistant Lectrofluor coating.
Speed. A packaging equipment manufacturer supplies a variety of pharmaceutical companies with vertical and horizontal form-fill-seal machines for pouch packaging of viscous and aqueous liquid products, tablets, pre-moistened applicators and sterilizable hospital disposables in sealed and peel-open pouches. The company used several of our coatings on sealing head components and other key parts susceptible to corrosion, wear and product release issues.
Sticking. One pharmaceutical manufacturer needed to protect a three-piece mold that thermoforms blisters from PVC/PVDC laminates in form-fill-seal machines. This mold faced difficult product release and exposure to chemical fumes. Magnaplate HCR provides the desired non-stick properties and resistance to hydrogen chloride fumes given off by the laminate in the pre-heat station.
You can see many more examples of engineered coatings in pharmaceutical packaging applications in our latest white paper.