How Synergistic Coatings Overcome Aerospace Challenges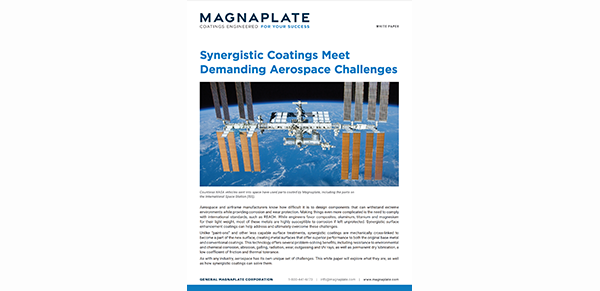 Aerospace and airframe manufacturers know how difficult it is to design components that can withstand extreme environments while providing corrosion and wear protection. Making things even more complicated is the need to comply with international standards, such as REACH. While engineers favor composites, aluminum, titanium and magnesium for their light weight, most of these metals are highly susceptible to corrosion if left unprotected.
Here's how applying synergistic surface enhancement coatings can address and overcome these challenges:
Reducing hazardous waste. More and more companies are looking for alternative solutions to chromium, cadmium and other heavy metals, which release harmful toxins into the air while undergoing certain surface finishing processes. When applied to metal surfaces, however, REACH-compliant synergistic coatings impart low friction, as well as corrosion and wear resistance—the same superior properties that once made chromic acid and cyanide plating processes so appealing.
Resisting corrosion. Synergistic coatings create harder-than-steel, permanently dry lubricated metal surfaces that are designed to resist corrosion. Magnaplate HCR® for aluminum, for example, can withstand salt spray exposure in excess of 15,000 hours—that's 44 times the MIL-SPEC requirement of 336 hours. As a result, aluminum can easily replace more expensive substrates like ferrous alloys while offering ease in machining.
Minimizing friction. Metal galling is a common problem that affects smaller components like aircraft bearings or the joints and drive shaft of titanium core sample drill tubes. While one option is to apply grease or oil, companies are looking to avoid liquid lubrication that requires time-consuming and costly reapplication. Synergistic coatings offer an eco-friendly, permanent solution, boasting coefficients of friction as low as 0.05.
Enduring extreme temperatures. Aerospace components must be able to withstand both high heat and extreme cold while still operating with total reliability. Synergistic coatings feature wide temperature ranges, ensuring surface protection in a variety of thermal environments, including the harsh vacuum and low temperatures of outer space. Plasmadize®, for example, boasts an impressive operating range of -200° to 1,300°F.